Chronic Pain
Headaches
Fibromyalgia
TMJ Problems
Neck Pain
Back Pain
Auto Accidents
Carpal Tunnel
Heel Pain/Plantar Fasciitis
Manual Therapy
Yoga
Get Instant Access To These Four Ebooks Today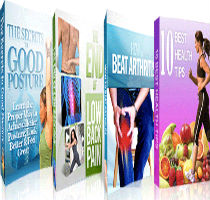 Enter your email address below for instant access!
Scheduling
We are open Monday through Friday from 8 AM to 5 PM. Please call us at 661-LUV-4AUM (588-4286) to schedule an appointment. We can even try to provide you with same-day appointments. Walk-ins are welcome! Feel free to e-mail us: info@aumptyoga.com
Insurance
We accept most Private insurances including Aetna, CIGNA, Blue Shield, Kern County Employee Health Plan, Blue Cross –Foundation SISC plans, Medicare/Medi-CAL & others. Please call to verify.
We DO NOT accept HMOs (Kaiser, BFMC, GEMCare), Worker's Compensation, United Healthcare Insurance.
All co-payments & deductibles are the patient's responsibility.
For CASH patients, the initial visit (evaluation & treatment) is $165, & each follow-up treatment visit is $115.
Download the Patient Form