Chronic Pain
Headaches
Fibromyalgia
TMJ Problems
Neck Pain
Back Pain
Auto Accidents
Carpal Tunnel
Heel Pain/Plantar Fasciitis
Manual Therapy
Yoga
Get Instant Access To These Four Ebooks Today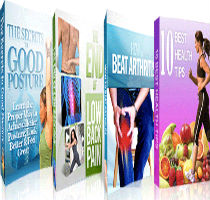 Enter your email address below for instant access!
Services
Whether you have had pain for a month, a year or even decades, we want to help you with gentle, safe and unbelievably simple & effective treatments with lasting results. We are confident that you will have >50% improvement in your condition within 3-4 visits, otherwise you are welcome to explore other options elsewhere!
We incorporate various gentle hands-on manual therapy techniques as appropriate, electrical therapy equipment & gentle progressive therapeutic exercises as part of your Physical Therapy program. Remember, Physical Therapy & therapeutic exercises are not supposed to hurt! In addition, the exercises should not cause you more pain in order to get better!! "No pain, No Gain" is a slogan that we simply do not believe in!
Conditions successfully treated:
Chronic pain
Fibromyalgia
Auto accidents
Myofascial Pain Syndrome
Headaches
TMJ problems
Neck Pain
Shoulder tendonitis/bursitis
Tennis and/or Golfer's elbow
Carpal tunnel syndrome
Work related injuries, stress
Shoulder blade pain

Mid back pain (that constant ache, knots)
Low back pain with or without sciatica
Hip pain
IT band syndrome
Knee cap pain
Post-operative conditions
Sprained ankle (chronic or acute)
Heel pain
Plantar Fasciitis
Failed back/neck surgery
Unresolved pain issues
Stress

Any pain that has not responded to different types of interventions including surgery