Chronic Pain
Headaches
Fibromyalgia
TMJ Problems
Neck Pain
Back Pain
Auto Accidents
Carpal Tunnel
Heel Pain/Plantar Fasciitis
Manual Therapy
Yoga
Get Instant Access To These Four Ebooks Today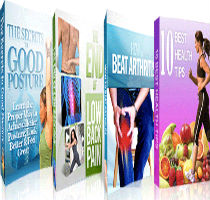 Enter your email address below for instant access!
WELCOME to AUM
Our Mission: To provide rapid, Holistic Pain & Stress Relief!
Bringing over 30 years of multi-stream expertise in Outpatient Physical Therapy to create a unique experience in Personalized Care
Do you...
have pain that continues to bother you despite medications, muscle relaxants, injections, massage, manipulations?
feel that you will always have pain because of a car accident?
have recurring knots & tightness in your neck/back & shoulder muscles?
have recurring headaches that just don't seem to go away even with medications?
have difficulty in sleeping and have to take sleep aids/medications to help you relax at night?
feel so stressed that it makes you irritable, tired; you can't sleep well & affects your quality of life?
ever feel like you are receiving treatment in an assembly line?
Come... experience the difference for yourself
At AUM Physical Therapy & Yoga Center, we believe that ALL healing comes from within. Pain, ill-health & disease are indications of an obstruction or imbalance in the bodily systems. All interventions - be it in the form of medicines or external measures, only help in removing the obstacles that prevent the body to remain in its healthy, pain-free state. With a right & intelligent approach, these can be minimized & removed.
We take pride in providing Physical Therapy for the body, mind & spirit to facilitate this process – second to none in Bakersfield/Kern County! We specialize in addressing the whole person, & not just treating the area of pain. Power to the Patient